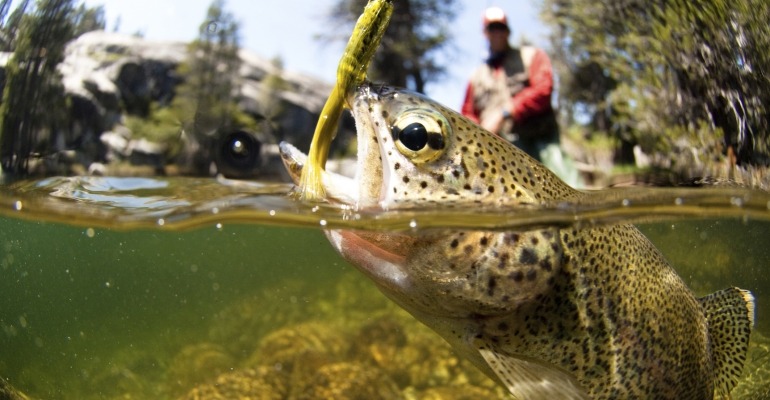 Fishing at Kentucky Lake
Kentucky Lake has 160,000 acres of water and 2,380 miles of shoreline which is the longest shoreline of any man-made lake in the world. For some of the best fishing in the world, Kentucky Lake offers Largemouth Bass, Smallmouth Bass, Kentucky (Spotted) Bass, White and Black Crappie, Blue Gill, White Bass, Striped Bass and Rock Fish, and Catfish. Lake Barkley is a 57,920-acre lake, which is a year-round boating and fishing paradise. It is located 8 miles from Kentucky Lake Cottages. Professional guides are available year-round, if you want an unforgettable fishing experience. 

Kenlake Marina is located within a mile of Kentucky Lake Cottages. It is a full-service marina offering bait & tackle, covered and uncovered slips, a free launching ramp, and fishing boat rentals as well. (270) 474-2245, or you may contact them toll-free at (800) 624-4124. 

All Kentucky anglers who fish in reciprocal waters must have a valid KY Fishing License. On KY Lake, anglers with either a valid KY or TN sport fishing license may fish from Eggner's Ferry Bridge, (US 68 and HWY 80) in KY, south to the Governor Ned McWorter Bridge (US 79 and HWY 76) in TN. This includes all embayments and tributaries, except the Blood River embayment in KY. Anglers must abide by the fishing regulations of the state in which they are fishing. 

Kentucky residents who are Seniors and/or Disabled may purchase a Combination Hunting/Fishing License for $5 per year. 
Fishing licenses can be purchased online here for your convenience.

Fishing Licenses are as follows. (For up-to-date information, please verify online): 

Resident Licenses
Fishing License (annual) $23.00
One (1) Day Fishing License $7.00
Joint Fishing License (husband & wife) $42.00
Combination Hunting & Fishing License $42.00
Senior/Disables Licenses $12.00

Non-Resident Licenses
Annual Fishing License $55.00
1-Day Fishing License $15.00
7-Day Fishing License $35.00

Kentucky Lake Fish Size & Creel Limits*
*These limits are based on Kentucky & Barkley Lakes in the state of Kentucky. Outside of the state of Kentucky, other bodies of water may vary. 

SPECIES Size Limit Daily Creel/ Possession Limit
BLACK BASS 
– Largemouth 12″ 6 / 12
– Smallmouth 12″ 6 / 12
– KY Spotted None 6 / 12
CRAPPIE None 30 / 60
WHITE/YELLOW BASS None 30 / 60
STRIPED BASS 15″ 5 / 10
Note: Kentucky & Barkley Dam tailwaters creel limit is 3 fish
SAUGER None 6 / 12
WALLEYE 15″ 6 / 12
CATFISH None None
BLUEGILL/SUNFISH None 20 / 40

**Information supplied here is subject to change without notice and is provided as a reference only. Please consult official state regulations before fishing for the most up-to-date information 

* There are no "fishing seasons" at Kentucky Lake. Fishing is open year-round. 

LBL Fishing Report Hotline: (270) 924-2000 
Kentucky Lake Water Level: (800) 238-2264 (KY Lake is #33 on the menu)
For more information and to order your licenses online, click here.